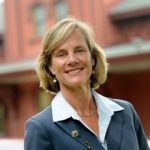 Sue Minter is the President and CEO of Special Olympics Vermont, part of a global movement working to foster acceptance and inclusion of people with intellectual disabilities by using the power of sport to showcase their gifts and abilities.
Minter was the Democratic candidate for Vermont Governor in 2016, and served as Secretary of the Vermont Agency of Transportation from January- September, 2015, and as Deputy Secretary from January 2011-2014. Following the historic flooding from Tropical Storm Irene in 2011, Sue was appointed to be Vermont's Irene Recovery Officer, responsible for implementation of all state recovery and resilience programs and activities.
Minter was elected to the Vermont House of Representatives from 2004–2010, serving on the House Appropriations Committee and on the House Transportation Committee. She was selected to be an Aspen Institute Rodel Fellow in Public Leadership (2009-11), and was designated as a 2008 Emerging Political Leader by the State Legislative Leadership Foundation.
A graduate of Harvard University (BA) and M.I.T. (MA in City Planning), Sue has worked over the past 30 years in the public, private and non-profit sectors, as a professional planner and policy maker at the state, local, and international level. Sue and her husband, David Goodman, live in Waterbury Center and have two children, Ariel and Jasper. She enjoys backcountry skiing, bicycling, hiking, gardening and walking her dog.